Description
Furthermore, the MS906 has a full range of pre-OBDII plugs and harnesses, as well as the normal OBDII style, standard since the year 2000. Communication with the car is by direct cable connection. Mains and cigar lighter chargers are also included.
Updates are fully automatic, after you have entered your wi-fi router key (just once) and these updates typically appear weekly.
Being a tablet, the MS906 benefits from all the features you would expect, including high speed WiFi. Operating system is Android Kit Kat, which supports multitasking. For example, you could obtain a code and brief explanation from the MS906's diagnostic programme and then flick to a Google, Autodata or other application, to receive help in fixing the car. Applications are as wide and deep as we have become used to from Autel, with every car or van that you would expect fully covered. More surprisingly, there are full function applications for Maserati, Lamborghini, Ferrari, Bugatti, Bentley and Rolls-Royce.
Have a look at our 6-minute YouTube video and then order below or contact us through
Phone: 07854-021502 (from the UK); 44 7854 021502 from overseas E-mail: equipexpressltd@yahoo.co.uk
Click on the link here for our MS906 video
Typical live reading graphical and dial display, above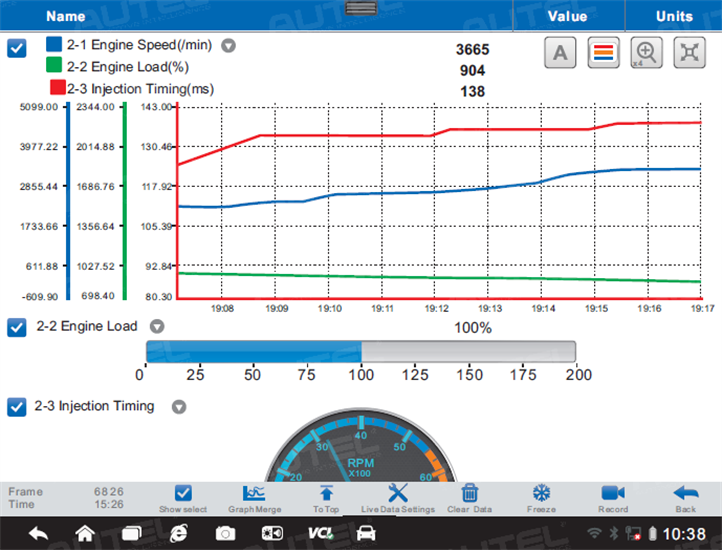 Below is Equipexpress's Autel UK Dealer Badge; make sure any other seller you're contemplating can produce the same! You can see from the number that we got ours in 2011. It makes all the difference if you need support.
Regardless of model, Equipexpress Ltd will register to you the Autel machine of your choice and load and test the latest software. We won't just leave you to get on with it! This is important, as initial set-up is not as easy as you might think.
Email:equipexpressltd@yahoo.co.uk
Direct Phone:07854-021502
Typical live reading graphical and dial display, above